Electric Truck Air Conditioner K20BS2 Dec 5th 2017 Installation Case
Author:Corunclima Date:2017/12/05
Though recent fleet cooling service is substantially increasing and most of our partner's mechanics has been dispatched for the assignment like such, customers coming to the garage still have to be well served. This client come to our partner for his Kenworth W900 trucks of different colors installing electric truck air conditioner K20BS2 in the afternoon. The installation was completed until night fall. Despite it was a little late, 2 sets of K20BS2 installation was finished in several hours is quite efficient for us.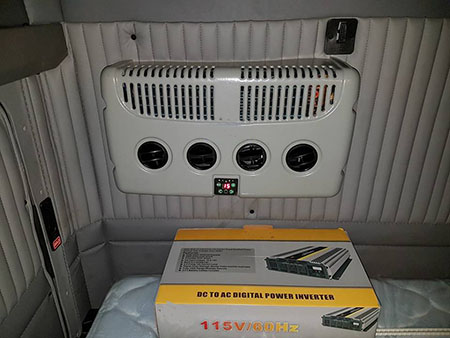 Two Kenworth W900 is brand new when they are parked in the garage. As it will be driven in dusty and high temperature area, the client decide to update cooling gadget inside the cab. W900 is that kind of truck, which sets the pace in long-haul performance, reliability, easy maintenance, productivity, timely uptime. 130 inches longest cab from bumper to back-of-cab is one of the longest of long-nosed conventional styles. It integrated ready-for-anything functionality with beautifully and fine aesthetic design while conserving conventional and classic long-nosed truck cab style. The capacious driving cab enables the driver have clear vision of immediate vicinity. It is also the symbol of personalization perfectly expressed through its tailored brightwork, hand-stitched upholstery and exciting dual chromed stacks. These 2 trucks equipped with standard 72" AeroCab with Splendor interior. The sleeper is built to go for your expedition, which gets drivers a rich-looking, cab-matching interior while allows more space for any extra gadgets you want further. This time our partner will add our truck sleeper air conditioner K20BS2 into the cab. The thoughtful designs inside the cab may become factors facilitating whole installation for flexible installing position choices for evaporator as well as less cramped space when wiring and hose connection.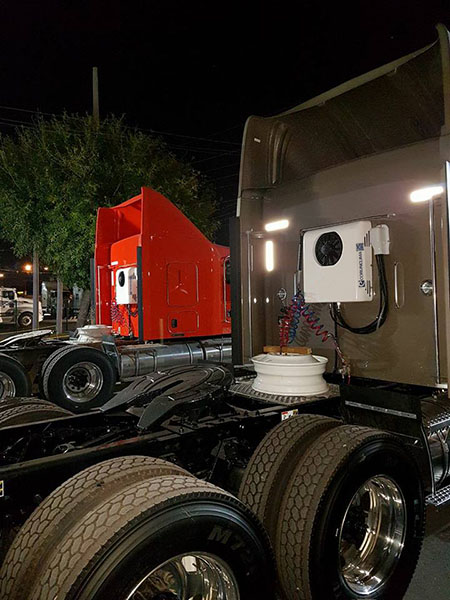 Then let's take a look at electric parts of the truck. Kenworth W900 makes it electric system dependable by placing 4 pieces 12v, 950CCA batteries firmly on the left hand side, near the 12v, 160Amp alternator for minimum voltage drop. Such design will also decrease the wiring distance and materials consumption while ensure K20BS2 long-time operation with sufficient electricity. Turn off the engine in whole night sleep is keep your security, keep you cool as well as the best support for anti-idling regulations.
You are also welcome to Corunclima on Facebook & Google+!
Zhengzhou Corun. Tech. Co. Ltd., & Corunclima
With nearly 20 yrs' exp. in R&D and manufacture in transport refrigeration unit and all-electric air conditioner, Corunclima gradually evolves from manufacturer to professional consultant of eco-friendly, cost-effective, customizable transport cooling solution.