The Classification and Different Application of Refrigerants
Author:Corun Date:2018/05/28
We see many kinds of refrigerants when choosing a transport refrigeration unit or air conditioner. Do you know the classification and different application of different refrigerants? Well, you will know after reading this article.
Freon refrigerants are roughly divided into 4 types:
One, chlorofluorocarbon products, called CFCs. CFCs mainly include R11, R12, R113, R114, R115, R500, R502 and so on. They are classified by Montreal Protocol as controlled substances due to their high ozone depleting potential.
Two, hydrochlorofluorocarbon products, referred to as HCFCs. HCFCs mainly include R22, R123, R141b, R142b and so on. The ozone depleting potential of HCFCs is only a few percent of that of R11. Therefore, HCFCs are considered as the most important transitional substitutes for the CFCs. In the Montreal Protocol, R22 is to be eliminated by 2020 and R123 is to be eliminated by 2030.
Three, hydrofluorocarbon products, referred to as HFCs. It mainly includes R134A (R12 substitute refrigerant), R125, R32, R407C, R410A (alternative refrigerant of R22), R152 and so on. HFC has zero ozone depleting potential while the climate warming potential is quite high. The Montreal Protocol does not stipulate the duration of its use and it is identified as greenhouse gas in the Kyoto Protocol of the United Nations Framework Convention on Climate Change.
Four, mixed refrigerant. The mixed refrigerant is a mixture of two or more than two pure refrigerants. Because of the limitation of the pure refrigerant on the variety and property, the mixed refrigerant provides a greater degree of freedom for adjusting the property and expanding the choice of refrigerants. Mixed refrigerants have azeotropic and zeotropic two types. R404a, R410a, R407c all belong to zeotropic mixed refrigerant.
In refrigeration units, R134a, R404a, R410a, R407c are normally used. They are all environment-friendly refrigerants, which do not contain any ozone depleting substances like CFC, HCFC, and are recognized and recommended by the majority of the countries in the world.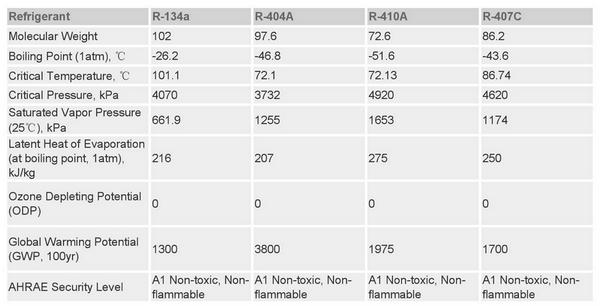 R134a, as a medium and low temperature refrigerant, is mainly used in automobile air conditioners and refrigerators;
R404a, as a medium and low temperature refrigerant, is mainly used in medium and low temperature freezing system;
R410a, as a medium and high temperature refrigerant, is mainly used in household air conditioner, small commercial air conditioner, and household central air conditioner;
R407c, as a medium and high temperature refrigerant, is mainly used in household air conditioners, small and medium sized central air conditioners.
Corunclima uses R134a in all air conditioner products and chillers, and uses R404a in freezers to satisfy different temperature requirements of transport refrigeration unit and air conditioners.
TAG:&nbsp&nbspRefrigerant &nbsp Corunclima