Transport Refrigeration Unit Plays a Critical Role in Cold Chain Logistics
Author:Corun Date:2018/05/10
Along with the change of mode of consumption and the acceleration of agricultural industrialization, people's demand for fresh and frozen goods is increasing gradually, which boosts the development for cold chain logistics. In return, cold chain logistics can promote the development of food safety and ensure the quality of agricultural products, livestock products and aquatic products. Many companies hold optimistic view for the development of cold chain market and are willing to invest in cold chain logistics, including but not limited to cold storage, refrigerated distribution.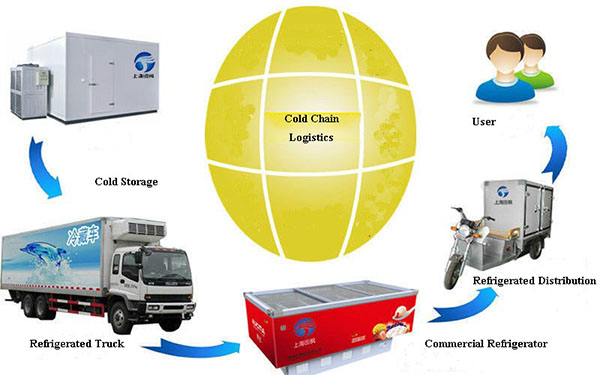 Competition is inevitable in every prospective industry. Likewise, the competition among cold chain logistics companies are no less fierce than any other fields. No one wants to be eliminated in the competition, so how to occupy a place in the fierce competition? Good service. Cliché you may say. Indeed now every company understands that good service is a very important way to retain a customer so every company is willing to do that. The reason causing different levels of service quality lies in the operation cost difference. Customers always have a budget. High service quality built on high operation cost is not what they want. The key is how we can provide high quality service to customers within their budgets. This is absolutely achievable by working on critical links like adopting transport refrigeration units which lower energy consumption, save maintenance cost and have longer lifespan.
Some things are constantly changing for cold chain market: policy changes; marketing environment changes; customers change; environment of competition changes; technology changes. But, there are also some things remain unchanged whenever and whatever: customer's request for lower cost, higher efficiency, better service and the growing trend for cold chain market.
Corunclima keeps the unchanging requests in mind and devotes itself into the transport refrigeration unit for nearly 20 years. Choose right transport refrigeration unit to provide a customized solution for every customer in order to meet the different requirements of different kinds of goods. Corunclima will help you with that.
TAG:&nbsp&nbspTransport Refrigeration Unit &nbsp Corunclima