Electric Transport Refrigeration Unit C300TB Jan 25th 2018 Installation Case
Author:Corunclima Date:2018/01/25
As the end of New Year holiday and all folks starts to back to office for work, the business of our partners' starts get back to normal and busy in recent days. Since the temperature will rise after winter finished, temperature-sensitive cargo transportation will require all necessary conditions prepared, such as reefer vehicle with transport refrigeration unit.
Our partner in Mesoamerica has already owned experienced technician team in transport cooling equipment installation and maintenance after these years' service for clients with different cooling need, as well as thorough knowledge in all series of our electric cooling product, so we are all confident in profitable business in the new year with our partner's support though many possible challenges may come in our way. In our previous service cases for clients, we have mentioned about electric bus air conditioner for Mercedes Sprinter van and electric transport refrigeration unit for reefer van. This time, previous two cases seem to mix with each other, the client requires transport refrigeration unit for Sprinter reefer van. What a coincidence!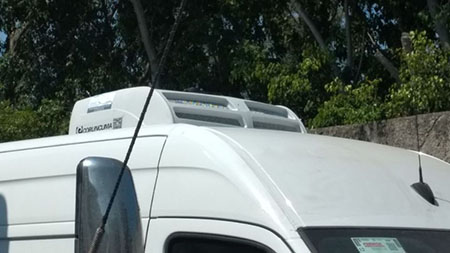 The clients will use his sprinter van to transport fresh fish. As the city in which he runs his business of grilling fish specialty restaurant is not very far from seashore, so he decides to transport fish by his own vehicle instead of entrust third party cold chain logistics company to reduce operating budget. As the whole journey has combined with different traffic types of highway and urban area roads and alleys, reefer van is best option for his cold chain need. Mercedes Sprinter has various types for choice according to different roof height and wheelbase length, its flexible type variants are ideal for small business. Besides, its BlueEfficiency innovation with harmonized components will contribute to significantly reduced fuel consumption and carbon footprint. The whole technology would reflect in standardized fuel pump with electric regulation, alternator management, rear axle and tires with optimized rolling resistance. These features would help vehicle owner increase driving efficiency and cost-effectiveness. Once it has been retrofitted into reefer vehicle with our electric transport refrigeration unit, whole power source of the unit on electricity from original vehicle battery or connecting to charging pile (extra inverter needed when connecting to charging pile), and longest uptime of whole unit thanks to 6-generation technology used to stabilize electric system inside the unit, our electric transport refrigeration unit helps the user to keep cargo fresh and frozen on the road and cut down fuel cost on transport cooling to minimum.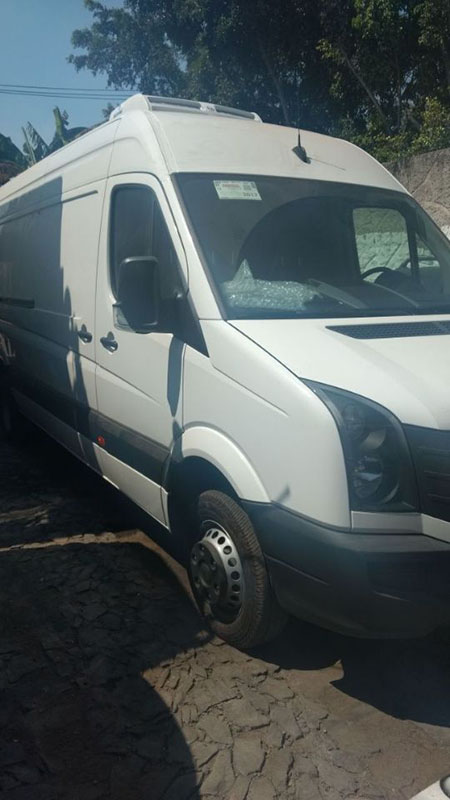 Our partner first helps the client paneling his reefer van. The insulation of the vehicle requires low thermal conductivity, light in weight, and strong and resistant to moisture penetration. The poly panel chosen by our partner is about 3" in thickness while perform well in waterproof and heat reflective sheathing. The paneling of reefer van with good quality will be beneficial to cooling performance of transport refrigeration unit. The panel thickness is also decided by total container size, for this Sprinter reefer van, the inner size is about 8 m³.
Regarding electric van refrigeration unit, C300TB has been recommended for the client as it's the perfect cooling solution for reefer van with 6-8m³ container. The required temperature of fresh fish is around 0℃ and the whole container will also need to be pre-cooled before the container is loaded and continuously cooled during the container is unloaded. So the client requires the reefer unit should cool down the whole space to -2℃. To achieve continuous cooling, the original vehicle alternator and battery should be competent enough to support reefer unit running even engine shut off. Provided 12V, 100Ah battery and 200A alternator of Sprinter cargo van would be enough for C300TB. The onsite test result shows that C300TB cools down whole area to -2℃ within 40mins under ambient temperature around 34℃.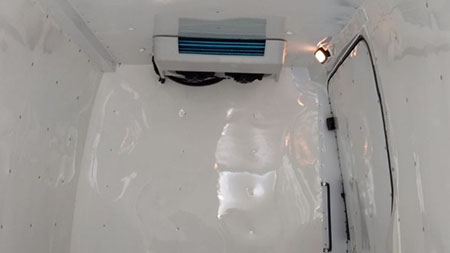 You are also welcome to Corunclima on Facebook & Google+!
Zhengzhou Corun. Tech. Co. Ltd., & Corunclima
With nearly 20 yrs' exp. in R&D and manufacture in transport refrigeration unit and all-electric air conditioner, Corunclima gradually evolves from manufacturer to professional consultant of eco-friendly, cost-effective, customizable transport cooling solution.