Electric Transport Refrigeration Unit C300TB for Hiace Reefer Van
Author:Corunclima Date:2017/11/23
Our Oceanian partner recently referred a new installation case of electric transport refrigeration unit C300TB to us. Since vacation of Thanksgiving and upcoming Christmas, the case become quite surprise to us for that our partner is still busy with promotion of our product and take model recommendation and installation seriously. This time is a Toyota Hiace reefer van.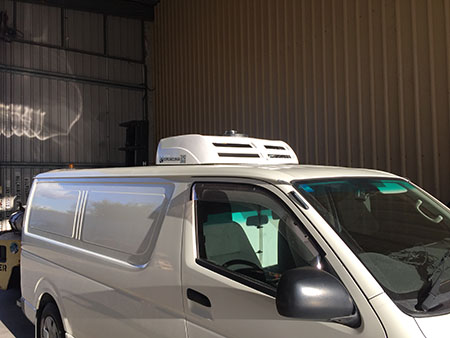 The reefer van is expected to be used for transporting dairy product which mostly is fresh milk. In consideration of food safety, Grade A milk is usually rigorously produced, processed and packaged. Though this kind of product has been pasteurized before supplied to retailers, they still has to be stored and transported in relative low temperature. Pasteurization of raw milk is done by low temperature method in which it will be heated to 62.8℃ or higher for at least 30mins, or by high temperature way in which it will be heated to 71.7℃ or higher for at least 15secs and then quickly cooled. These pasteurized methods would definitely neutralize pathogenic microorganisms and extend the shelf life, but Grade A milk still should be stored under environment of 7℃ or below since bacteria growth will be maximum limited under such temperature or below. For the reason of quality protection, the storage and transport temperature would be required to below 4℃. That's why the customer would need reefer van with transport refrigeration unit to deliver dairy products.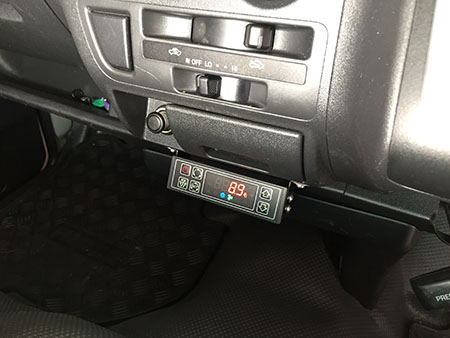 Hiace reefer van has been designed with double side rear doors which include one on either side. Plus a rear door is accessible for all models, load and unload job especially for liquid product stored in pail or bucket like container will be much easier. The van has been retrofitted into reefer van by clients themselves, so heat-insulated foam has been added before they drive to our partner. Cargo space is about 6m³ which is a medium size cargo container type for our transport refrigeration unit series. It's a cliché for introducing benefits of adopt electric van reefer unit since the clients specifically come for an electric one. 12V electric van refrigeration unit C300TB would not only be compatible for original vehicle electric system but also effectively cool down to -5℃ for such size container. Original battery of 600CCA is sufficient for continuous cooling during engine off period. Besides, our partner helps to add and increase alternator output current to 130Amp (original 80Amp plus extra 50Amp) to ensure enough power to support C300TB. Onsite test result is finally cool down to 0℃ within 25mins under ambient temp of about 25℃.
You are also welcome to Corunclima on Facebook & Google+!
Zhengzhou Corun. Tech. Co. Ltd., & Corunclima
With nearly 20 yrs' exp. in R&D and manufacture in transport refrigeration unit and all-electric air conditioner, Corunclima gradually evolves from manufacturer to professional consultant of eco-friendly, cost-effective, customizable transport cooling solution.